It's #GivingTuesday. It's the Tuesday after Thanksgiving when charitable organizations solicit donations from individuals, businesses, clubs groups and organizations to help their particular cause. One group at Tropical Harbor Estates in Lake Placid, led by Ms. Barbara Knigh got a jump on things. We cannot thank them enough for all the wonderful donations for the kitties! We can definitely use all the nice linens and the crate will be nice and roomy for the next litter of kittens we receive.
And they are just the tip of the iceberg. There's Barbara Black who made some absolutely beautiful condo quilts at Petco. They really are wonderful; and the cats said they smell great. Additionally we would like to thank Linda Johnson. She's a wonderful seamstress who stitched up new cage pads for our HCR kitties
Moreover, we have a cadre of volunteers, who help with feeding feral kittens. There also are fosters who board cats and kittens until we can get them to adoption events. We have volunteers in our Trap, Neuter and Release program who find cats that need to be fixed. Not to mention, a number of local veterinarians and animal hospitals who have helped to cure many of the cats and kittens from a myriad of injuries and diseases – not to mention having them fixed and getting them current on their shots.
A Growing Need
But with all this help, the needs keep growing. We are finding more and more feral cat colonies. These are cats and kittens who need to be fixed, so as not to make more cats or kittens. They also need inoculations so as not to spread disease to other feral cats, and domesticated cats who may have gotten out of doors.
In addition, we literally get calls each day of people who have found cats that need to be re-homed. There are people who no longer can keep cats. There are calls about injured felines who need immediate attention. And the list goes on and on and on.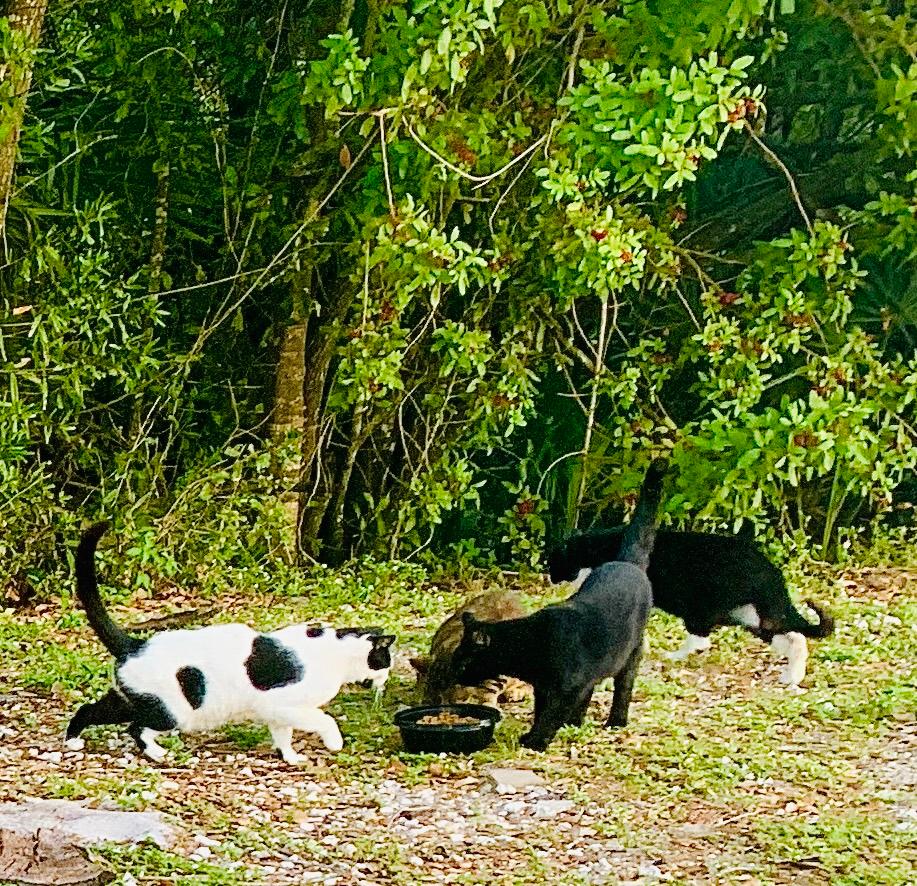 #GivingTuesday
That is why this Giving Tuesday is so vitally important to us. We need those who can donate their time, effort and money to keep this effort growing.
Volunteers are integral to the organization. We need those who can help with such things as fostering cats and kittens for a time, until they can be put up for adoption. The feral cat feeding program also needs help. Feeding ferals also involves watching for drop-offs and injured animals . Having volunteers who would help by cleaning cages for our adoptees at Petco Sebring would be of great assistance. Moreover, having those who want to help with the trap & release program would be a Godsend.
Opportunities to volunteer abound. Do you have the time to shuttle cats to and from appointments to be fixed? Please contact us. If you are good with bookkeeping and accounting, we need you. Do you have experience with grant writing? This is a field we would like to enter. Are you experienced with social media – we can use you.
We need folks who can help set up, staff, and take down adoption events as well. In short if you love cats and have a talent, we can find a space for you.
Building the Bank
Finally, if you do not have the time, or the talent, we solicit your donations. Our goal is to provide our volunteers with everything they need. For the past few years, our volunteers have been doing almost everything at their own expense. We would like to make certain feral feeders have food. Getting our fosters food and kitty litter is a top priority. Purchasing new traps for the TNR program and new cages for the adoption events also is on the list.
However, it all costs money, And the costs continue to increase. They even have a word for it now – "petflation."
So on this Giving Tuesday, we would like to ask you to consider a donation to Heartland Cat Rescue. It would mean a lot to our volunteers to see that they are receiving support from the community. Plus, it would mean a lot to the cats, who only know that we show up with a meal – or that they have gone from living outside to a new, forever home.
And, because Heartland Cat Rescue is a 501 (c)(3) organization, it means that you will get a deduction on your income taxes that could drop you into a lower tax bracket. Thank you, for reading to the end. And thank you for considering this worthy effort.
You can do it HERE